About our chairman
Your location:Home > About Baida > About our chairman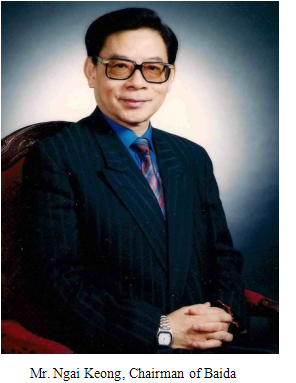 Mr. Ngai Keong is the founder and controlling shareholder of Baida Finance Group. He has been in the position of the Chairman of the Board and the Chief Executive Officer since the initiation of Baida.
During the 14 years after his graduation from university, Mr. Ngai served in various agencies in public sector. His experience extended to industry administration, transportation, economic planning, human resources, and labor relations. He was later invited to take the position of the Vice Chairman of the Public Relations Association of China, a prestigious organization with a nationwide membership network and a distinguished presidium composing of 39 newly retired minister-level senior leaders of China. Mr. Ngai thus is known as a pioneer of the Public Relation practice in China and enjoyed high reputation and extensive network among entrepreneurs, social activitists, and experts from investment, commerce, financial, and banking industries.
In order to make international communications more convenient, Mr. Ngai Keong has settled in Macao since 1986. He founded "Baida Finance Group", a Hong Kong-based enterprise. During these more than twenty years, he has been leading the company to develop and invest more than 10 projects involved in multiple fields of financial service, environment protection, new energy resources, mining, bio-science, and modern agriculture and has made great achievements in the corresponding fields.
Mr. Ngai Kong is good at communicating and making friends with various celebrities and leaders from all over the word, accumulating extensive and multidimensional connections in such fields as government, finance, securities, investment, industry, tradem jewelry, high-technonlogy, art, education, culture, health, publication, religion and charuty ect;
Mr. Ngai Keong won more than 20 international honors in these 20 years.